Formerly: Lujans Custom Carving.
I worked for Southwest Spiral Designs for many years. In April,2006 I opened Lujans Custom Carving. I worked for Southwest Spanish Craftsmen in Santa Fe, NM, I learned all about our cultural roots & architectural elements. Having built awnings, porches, pergolas, and other structures myself. I could help you design sound structures with the help of your architect and contractor. Please remember: your local building codes are your guide to your projects. Because this is a wood product: I'm not responsible for installation, care and damages caused by said products. Wood products do twist, crack and shrink while drying being they are milled somewhat green. I do use the best local material at hand.
To Navigate pages please click on topic on top left corner of page.
CORBELS: Pictures of corbels in use with sizes and pricing.
COLUMNS: Pictures of post/columns with sizes and pricing.
ELEMENTS: Pictures of awnings, mantels, shelf brackets and prices.
TABLES: Pictures of various table styles with sizes and pricing.
CONTACT: My address and phone # with site control messaging.

ACCEPTING SPECIAL ORDERS.
CASH AND CHECKS ON LOCATION ONLY.
Shop hours : By Appointment Only.
Delivery Available $1.20 a loaded mile. Location: 59A Camino Del Vadito, Vadito NM, 87579.
Mailing Address: PO box 196, Vadito NM, 87579.
Home # 575-587-1701.
Cell # 575-613-3548.
E-Mail : eloramio@live.com

| | |
| --- | --- |
| | |
2018 shop rebuild, garage addition and covered port for materials.


Celebracion De Cultures 2016.

Old display at Olguins sawmill between 2008 and 2014.

This customer wanted a variety of columns it came out Great!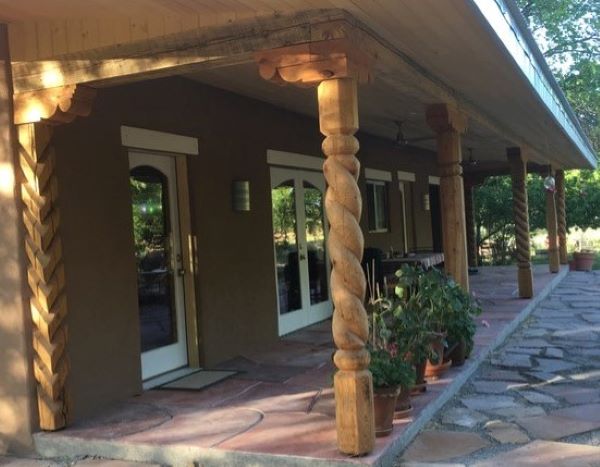 Solar Powered since August 2014. Proudly using harvested local USA material!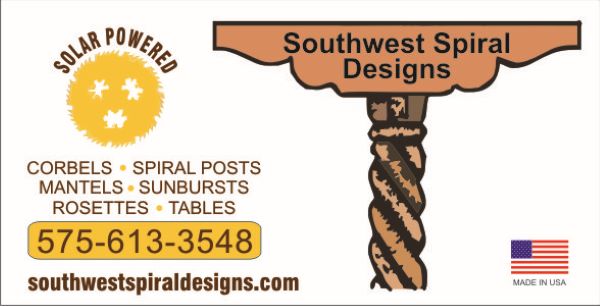 Please visit my pages on top left for products: Thanks!